Free Live Music: Wolfgang's Vault Review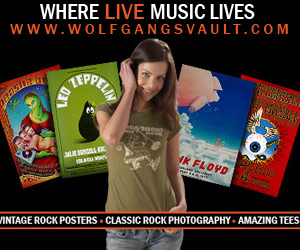 You love live music. You are taking a road trip or visiting your local amphitheater as often as possible to see and hear your favorite bands. You have an ever growing collection of live recordings that you just can't do without. If any of these statements describe you, you are the target demographic for Wolfgang's Vault. Wolfgang's Vault is the quintessential source on the Internet for free live music spanning many genres such as blues, jam bands, heavy metal, to noise pop and everything in between from many decades. To the delight of many, not only can you stream Wolfgang's Vault for free online in your Web browser, there is an iPhone app too. Just install the application and you have free live music on the go.
Who is Wolfgang and why does he have a vault? Wolfgang was Bill Graham (born Wolfgang Grajonca in Berlin in 1931). Bill Graham was the mid-wife of the modern rock n roll show. At the Fillmore West, Graham introduced audiences to the likes of Jefferson Airplane, The Grateful Dead, Otis Redding, Janis Joplin and many others. Graham was the concert promoter that the artists and musicians loved because he looked after them and the audience together to put on memorable shows allowing the musicians control of their stage show. Graham just didn't just put on a show; he put on a rock n roll experience. Bands such as Black Sabbath, Led Zeppelin, The J. Geils Band, and many others graced his Fillmore stages. It is this archive of live performances that Graham promoted that is the backbone of Wolfgang's Vault along with the performances from other archives such as the King Biscuit Flour Hour.
What's in this vault you keep talking about? Live music, memorabilia such as posters, vintage t-shirts, photos, vintage tickets, and more from your favorite artists of the 60's, 70's on up to last month. The concept is simple but brilliant. Wolfgang's Vault makes available for free the streaming of over 2300 hundred live performances and over 1300 artists with new shows being added all the time. Many of the shows can be purchased as high bit rate MP3s for your enjoyment anytime. Some shows are available for free download. You should subscribe to their email newsletter for announcements on such free shows.
This sounds good, but are there any artists that I have heard of? The short answer is:  It all depends on which rock you have been living under. If you have ever heard of bands like the Allman Brothers Band, The Grateful Dead, Kiss, Blue Oyster Cult, Eric Clapton, Thin Lizzy, and Lighting Hopkins then you might have heard of a few of the bands that are represented.
What do these concerts sound like? Are these recording third or fourth generation audience recordings or something? Are you kidding me? The concerts come from original masters when possible and professionally recorded by real sound engineers. The steaming quality is as good as or better than satellite radio. Every recording that I have personally listened to is very listenable and some are exceptional.
Am I going to get arrested for illegal music downloading if I listen to this free live music? Wolfgang's Vault is licensed by BMI, ASCAP, and SESAC. Every time you listen the artist is paid even if you are listening for free. Think of it as radio on demand without the annoying DJ. With that said, Wolfgang's Vault relies on the sale of memorabilia and rock n roll artifacts to keep the music free.
OK. That's a lot stuff to think about. What are some of the drawback? Now that you ask, there is only one drawback for me. I personally like the highest sound quality possible. The downloadable concerts are only available in high bit rate MP3s and no lossless formats. These high bit rate MP3s are probably good enough for live recordings, but I worry that I'm not hearing everything. Honestly, I can live with this, but a lossless option would make the downloads more desirable for me.
The bottom line is that Wolfgang's Vault is a remarkable resource for free live music with the option to buy some great memorabilia and adding live performances of your favorite artists to your music collection.